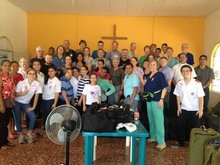 Charles & Judy Echols (members of St. Mark's), along with a team of 14 or so, take yearly trips to Iglesia San Marcos in Honduras. This team (which comes from several churches in different parts of the US) is the only medical help they receive. In addition, each year the team addresses maintenance and construction expenses that become evident in setting up the clinics. The team stands at 18 strong right now, with missioners from Virginia, North Carolina, Florida, Alaska and Arizona.
Plans are well under way for the 2018 Honduras Medical Mission to Iglesias San Marcos. For the 3rd year Bishop Lloyd Allen has requested we go to San Marcos and provide a medical clinic, pharmacy, and vision clinic for the families in this rural village near Omoa, Honduras. Once again we will bring Sawyer Water Filters too and provide training in the use and care of the water filters. For the first time we will hire a local Honduran dentist to provide dental care and evaluation for the adults and children who visit the clinic.
The 2017 medical mission treated 213 adults and 165 children for a total of 378 patients. Ages ranged from 1 month to 90 years. The mission was compromised by a tropical storm lasting 4 days. We hope to serve even more patients in 2018.
In addition to the distribution of water filters, tooth brushes donated by the faithful congregation of St. Mark's Episcopal Church were handed out along with instructions for their use.
How can you help? Your prayers and support will increase our ability to respond to the general medical, vision and dental needs of small, rural communities in Honduras and to look for ways to ensure more continuity of care for the patients and their families that we treat. Consider joining us in this mission to serve God's people! Every team member provides gifts from our Lord that are needed in this effort to be God's hands on this earth.
St. Mark's would be glad to get you in touch with Charles and Judy if you have more questions or are considering joining the mission team. Please call the church office for this information.