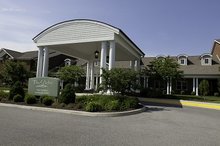 At this time, there are no in person services being held at The Glebe by St. Mark's Episcopal Church. Please keep an eye out for any updates.
Holy Communion services are held at The Glebe in Daleville on the last Tuesday (note change of day) of every month. Service starts at 11:30 a.m. The Rev. G. Willis Logan is celebrant and preacher for these services.
The Glebe is located at 200 The Glebe Boulevard, Daleville, VA 24083.